Kenya's scuba diving is one of its best kept secrets. Over the years we have been mystified why more divers don't come from around the world to experience the wonders of Kenya's coral reefs and other dive sites. So we have put together 10 reasons to scuba dive Kenya to assist divers in making their decision to travel to Kenya to dive and also to alert some of you Kenyan's out there, the wonders that are right here on your doorstep.
1. Coral reefs in pristine condition

In comparison to some of the more famous diving locations around the world and the well publicised problems of reef damage from over fishing, boat anchors, and bleaching, Kenya's reefs are remarkably untouched. From the fringing reefs of the South Coast to the islands around Lamu, Kenya has a fantastic array of coral reefs supporting thousands of species of reef fish.

 
2. Wide range of scuba diving sites suitable for all levels of diver

While Kenya has many fabulous coral reef dive sites, it is not limited to these alone. Both the North and South Coasts offer purpose-sunk shipwrecks for divers to explore with the MV Fungao off Diani, the MV Dania off Bamburi and MV Fish Eagle off Kilifi. There are also the Vuma caverns near Kilifi with a wide array of rock formations in addition to the coral reef there. There is shore diving at several locations in Kenya and opportunities to dive in the mangroves to explore the life there. At all locations in Kenya there are dive sites suitable for all levels of diver from beginner Try Scuba Divers, right up to advanced levels of deep diver.

 
3. Range of Marine Life

The coral reefs and waters of Kenya make a home to a wide range of marine life ranging from the giants of the ocean right down to a great range of macro creatures. It is possible to encounter sharks, turtles, rays, whales, dolphins and more in the waters around Kenya. Lovers of smaller critters will delight in the reef life with nudibranchs, frogfish, blennies, lionfish and more to see and of course most of the cast of the Disney animation Finding Nemo.  

 
4. Chance to encounter giants

At certain times of the year in Kenyan waters it is possible to dive with the giants of the ocean, manta rays and the biggest fish in the ocean whale sharks. The 'Papa Shillingi' can be seen from November through to March making it a thrilling experience for both divers and snorkelers as these 6m long fish glide past them.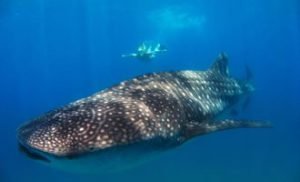 5. Dive site location

One of the big problems with diving for some participants is the amount of time it can take out of a holiday or short break. Often in many parts of the world it can take several hours to reach a dive site by boat. Multiple dives coupled with surface intervals can mean that a dive trip takes up the whole day. Not so in Kenya where most of the dive sites sit 15 minutes or less from the dive boat launch sites. With the exception of specialist dive trips you can do a morning 2 tank dive day and be back in time for lunch at your beach resort followed by an afternoon of relaxation and other activities.

 
6. Safari opportunities on land

No visit to Kenya would be complete without seeing some its world famous wildlife on a Kenyan safari. Encounter the big five, see the amazing Kenyan national parks and treasures such as the great Rift Valley, the peak of Mt Kenya, the forests of the Aberdares and there is too much already to write about. Where else in the world could you conceivably encounter a whale shark in the morning and  lion and an elephant in the wild in the afternoon? An experience not to be missed.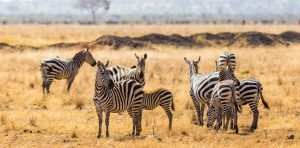 7. Underwater Photography Opportunities

With visibility regularly being over 20m in Kenyan waters and the wide array of marine life, both giant and macro and different diving locations, this can be a great location for underwater photographers. You will have many opportunities to capture great shots.

 
8. Muck diving

For divers who like to explore and really find macro marine life, there are also plenty of opportunities to muck dive in Kenya. Nearby to the main coral reefs, these sites offer real chances to find more small critters including many species of nudibranch and more. 

 
9. Protected marine parks

Kenya has in general a successful wildlife management policy and this extends to its waters. There are a number of marine parks in Kenya which play haven for marine life with fisherman unable to access them. Even in the areas outside of the marine parks, the coral is in good condition and the waters are not drastically overfished.

 
10. Swahili sightseeing

After diving it can be a wonderful experience to take in the Swahili culture of the Kenyan coast. With a history dating back hundreds of years, there are many things to see and do on the Kenya coast. Take in the architecture of the Omani occupation in Lamu and Mombasa old town. Visit a Swahili market to barter for and purchase trinkets and souvenirs. Take part in other watersports such as the incredibly popular kite boarding. Visit snake parks and other wildlife attractions. There really is something for everyone.