An Apple Watch Ultra Dive Computer Review from someone who uses dive computers on a daily basis.
When Apple announced the Apple Watch Ultra was going to include a dive computer feature, my first thought as a tech geek was: I must have one. I purchased the initial Apple Watch and sold it very quickly, not needing, out of the features and preferring to wear a dive watch. But here finally was an Apple Watch that I could actually use. Very exciting. So I duly ordered one and with a total gamble sold my air-integrated Suunto D5 and tank pod, to be able to finance some of this.
This brings me to my first point. The Apple Watch Ultra is not cheap. Starting at $799, this begins to compete on price with higher-end diving computers being more expensive than the Suunto D5 and D6, but still cheaper than the dive watches it directly competes with, the Garmin Descent MK2 and the Shearwater Teric. Both of these dive computers have a lot more dive computer features than the Apple Watch Ultra. But to be honest this is not being sold as a stand-alone dive computer. It is being sold as a smartwatch with dive computer capabilities so in reality, you are getting a lot more for your buck, despite having to pay a subscription.
Apple Watch Ultra Dive Computer Features
The watch itself is a thing of beauty. It might take you a while to get used to the rectangular shape of the face but it really does allow for more to be fitted onto the screen. The titanium build and crystal face adds robustness to the watch that makes me fully confident it can stand up to the active lifestyle of the busiest diver. It is quite big but the titanium means that you hardly notice it on your wrist, weight-wise although on smaller wrists it will appear quite large.
I purchased the "ocean" strap for the watch and so far it stands up to its workload well, being a more traditional strap style in comparison to the others available for the dive computer. Being an "adaptive" diver I swim with my arms underwater and so far the strap stays in place remarkably well. It's available in 3 colours midnight blue, white and yellow, depending on your preference, and for sure other straps will be released by third parties and possibly Apple in the future. It also can take any other Apple Watch band so it's highly customisable.
The usability of the Apple Watch Ultra is excellent. With two side buttons and a track wheel, as well as the touch screen on dry land, it lives up to the Apple mantra. "It just works". Underwater navigating the dive computer with the track wheel is very simple and compared to dive computers I have owned in the past this is in a league of its own for ease of use. I have yet to test the emergency siren on the side but that does sound like it could be very useful to a diver in peril for attracting attention.
The one downside perceived is the battery life. When using the Apple Watch Ultra as a standard smartwatch I can get a couple of days to use out of it in between charges but when it is used as a dive computer then I have to charge it daily. But that being said it managed 4 dives in a day and still had 40% battery left, so if you get into the habit of charging it when you go to bed then what's the problem?
Apple Watch Ultra Dive Computer Review
After a week or so of diving with the Oceanic+ App on my Apple Watch Ultra, I do have a few remarks. The first thing is that for a recreational diver who is not often pushing the limit of 40m or doing any technical stuff, then this computer is more than enough for you. I love it.
Compared against a number of computers including a Suunto D5, Zoom, Aqualung i200 and a Shearwater Perdix, it maintained excellent accuracy for depth and time (although as an Apple product would we really doubt it?). So no problems with whether it can function as a depth gauge or timing device. A little annoying that you can't operate a stopwatch underwater at the same time moment but the bottom timer show seconds too so not a problem for when dive students are doing timed tasks.
The readability of the Apple Watch dive computer screen. This is the easiest dive computer screen I have ever had to read, despite the small watch size. The brightness of the screen and the clear colours, writing and even the bright alarms make this a joy to read and view even in direct sunlight, on the standard brightness setting.
As mentioned earlier, even wearing gloves the trackwheel of the Apple Watch Ultra makes it easy to navigate the dive computer between features when you are on a dive. A lot of thought has clearly gone into this and it just works, including compass operation.
On the NDL side of things, the Oceanic+ App uses the Bühlmann ZHL-16C decompression model and it compares favourably to other dive computer limits. You can change the conservatism slightly but all in all, it's not bad. Setting Nitrox also is a cinch with the easy operation and settings.
The real downer on the Oceanic+ app on the Apple Watch Ultra is the depth limit of 40m. The Apple Watch Ultra is rated to 100m but if you go past 40m on the Oceanic+ app then it shuts you down basically allowing you to make a safe ascent to the surface but not continue the dive. While I understand that 40m is the limit of recreational diving, the device allows for deeper so the app should be able to allow for a few metres of error or just to work with any depth. Very annoying and the potential to put off a lot of divers. That being said for diving well within the limits, this won't affect you too much.
The alarms on the device are fully customisable with audio and haptic ones a possibility. I love that as haptic alarms on my wrist keep it more subtle than loud annoying beeps that have every diver in the vicinity looking around. You can set alarms for dive time, depth and even temperature (although my body tends to tell me if I'm too cold so this might be overkill). One thing about alarms, alerts and advice is that they are very easy to see and pronounced. Go up too fast and the screen flashes up a red tab. Need to do a safety stop and a bright yellow tab appears. Extra customisation options like safety stops at deeper depths would be cool, but again for most divers, options are covered.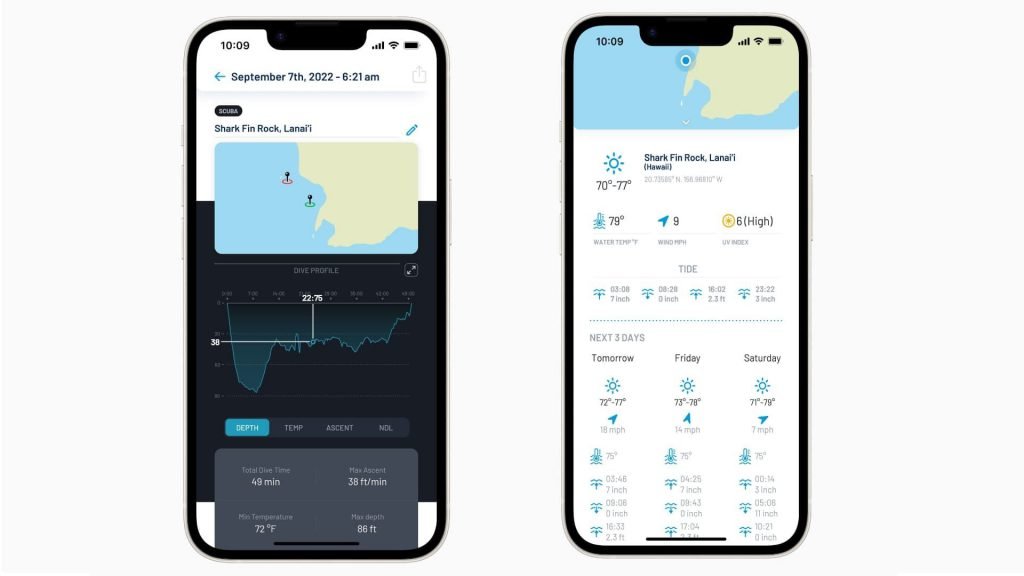 The dive planner app and on-watch logbook are easy to access and use with the Oceanic+ App. It is not a matter of navigating tediously with three or four buttons, trying desperately to locate the dive planner app or logbook to share with other divers. A couple of taps and using the wheel and you are there. Very easy or even easier, to use the Oceanic+ app on the iPhone to access these features.
When it comes to the Oceanic+ iPhone app, it is quite good but there is potential for so much more. The logbook automatically syncs the dives from your Apple Watch Ultra Oceanic+ app so you don't have to think. You just need to fill in the dive site information and other dive data such as sightings, notes and buddies.
But the GPS feature which captures the dive site location at the beginning of your descent only is activated if you have cellular capability enabled on the Watch or are close enough to your iPhone. Sadly if like me you live and dive in a country where this is not a possibility then often your dive coordinates are not captured. You can't save your different dive sites either in the same manner you can on other dive logbook apps like Mac Dive. The fact that you can only use the Oceanic+ logbook which is also tied to a subscription might also be a put-off for some divers.
Other downers are that for logging the equipment used, it only allows you to enter equipment from the Oceanic or Oceanic-affiliated brands. If like me your equipment is largely from other brands, this won't work well.
The subscription model is going to be a big divider amongst divers. Problem is that Oceanic (or any company who develops a dive computer app) will need to make money to replace the sales of the dive computers the app will displace. So while the Apple Watch Ultra is expensive, it is simply the hardware that the dive computer app is installed on. I would prefer a paid app over something that is freeware as in a lot of cases I am afraid you do get what you pay for. Oceanic has made the subscription tally to the amount of diving that you do. But I know there are going to be a lot of people who scream and shout that they have already paid enough. Well in that case they would certainly be happier with a pay once dive computer with fewer features.
Is a Smartwatch Useful for Divers?
Now here is where having an Apple Watch Ultra as a dive computer can be really useful. There are so many apps available in the Apple ecosystem which can be incorporated into your complications on your Apple Watch Ultra for quick access. I use Windy for the wind and water conditions, Tides, for a quick tide gauge and dive planning, the compass and even the UV index so I know how harsh the sun will be. There really are apps and complications for all types of divers and water sports enthusiasts. This after all is a smartwatch which can be used as a dive computer so there is so much more to it.
Other great features include the dive data being integrated with the health app (although this could be further developed and I am sure it will be). This can allow your dive data to be used for both monitoring your own health and for sure dive research in the future. The activity tracker actually pushes me to work harder and exercise more which can only be a good thing. Yes, I do get the notifications to my wrist from my phone which can be annoying even if useful. But they don't work underwater, which is a relief. The phone feature from the watch would be a super useful feature in an emergency but then again relies on cellular connectivity, so usefulness varies by country.
Conclusion- Should Divers Buy an Apple Watch Ultra for a Dive Computer?
So is the Apple Watch Ultra a reasonable dive computer. Absolutely. Should all divers buy one. No. It is a wonderful alternative for those who want a smartwatch and dive computer combined and don't regularly push the recreational limits. For those who want tech diving capabilities it is an absolute no no. But for me who teaches recreationally and dives most days, it is a worthy dive computer and the other features offered by the watch make it absolutely brilliant for me. Sure it was pricey but you are paying for the other features of Apple's top smart watch not the dive computer.
A subscription for Oceanic+ is annoying but if you want to be getting the constantly updated app with new features as they emerge this will need to be paid for as Oceanic need to recuperate on their app (as theoretically they won't be selling as many computers).
From a dive professional point of view this will expose so many new people to the possibility of diving it is unthinkable not to like it. Millions buy Apple Watches so there is serious sales potential in in. It might become more of a replacement for the entry level computers for rental or use once a year on holiday.
Fact is I trust the Apple Watch Ultra as a dive computer despite a few flaws which can be improved upon. If they open it up to other developers from Shearwater, Suunto and other dive computer manufacturers to apply their own apps and algorithms then it gets even more exciting. Like everything Apple it is probably going to be a game changer so it will be exciting to go along with it. It is expensive and is not going to replace the dedicated high end devices. If you can afford it then well worth it. It doesn't have things like air integration and gas switching, but I am still loving how useful it is over all activities not just diving. This is here to stay and I'm excited to see how apps for it develop!
Like
Great Screen to Read and decent dive profiles
Looks great
Extra smartwatch apps really useful for divers
Integrate with health app could be great for diver data
Don't Like
Go past 40m and it shuts down the app. This is useless
GPS Doesn't Work without Cellular Integration (Not provided in many countries) or Being Really Close to Your Phone
Oceanic+ App Needs More Work
Battery life could be better
Flying after diving limit is 24 hours.