It can be a hard decision, to find the best places to eat in Diani. Mainly because there is so much choice and selection of restaurants. We want our divers to have the best experience of everything Diani has to offer so we have put together a small guide of the best places to eat and drink in Diani.
After your scuba diving and beach activites you want to be able to enjoy the best places to eat in Diani and other activities such as catching a game, live music, and partying
We have tried to be selective about what the best thing that the bar or restaurant has to offer is and categorised below. This list is not exhaustive but is a great start in finding the best places to eat in Diani.
Best Exclusive Restaurant in Diani- Sails at Alamanara
Taking its name from the sails that protect diners from the sun at this spectacular beach-side restaurant, Sails offers a relaxed exclusive dining experience. With under 10 dining tables available, you should book in advance to make sure you can experience the culinary delights served up by top chef Anthony Huth and his team.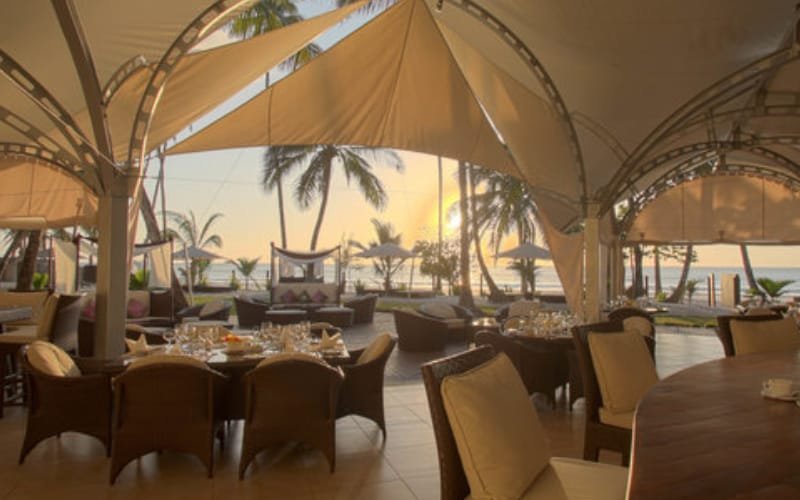 Best Novelty Restaurant in Diani-Tiki Bar
Situated on the roadside in the centre of Diani, Belgian-owned Tiki Bar offers a wide range of seafood and popular European dishes including their famous surf and turf steak and prawn platter. Daily specials keep the variety going and live music and sports matches as well as salsa evening dances are regular occurrences. A great bar too. Not to be missed.
Best Beach Bar in Diani- Salty Squid
Found nestled amongst the palm trees by the powder sands of Galu Beach, Salty Squid offers a great menu of seafood and cocktails in a comfortable relaxed environment. Wine and dine yourself whilst hearing the soothing sounds of the ocean and watching the kitesurfers practicing on the waves.
Best Cafe in Diani- Kokkos Cafe and Bistro
A great cafe experience for breakfast, lunch or dinner, Kokkos is the one-stop place to grab a quick bite and take in the daily comings and goings in central Diani. A lovely environment where you can get anything from a coffee and croissant, right up to a delicious dinner from local, Asian and European influences.
Best Budget Seafood Restaurant in Diani- Colobus Shade
This one really is a hidden gem. Found on the road to the beach in Galu, close to KFI supermarket and Tequila Sunrise, Colobus Shade is an excellent choice for budget seafood in Diani. You can get the seafood platter which can contain lobster, crab, prawns, and fish fillet, all for the most reasonable prices you will find around. Not to be missed and a hint is to call/stop by to book in advanced so that the barbecued seafood will be ready when you want to come for lunch or dinner.
Best Place to Watch Sport in Diani- Piri Piries
I know I know we are at the beach and sport shouldn't be on the brain. But if you want to catch rugby, football, cricket, golf, formula 1, or other sports game, whilst enjoying a drink and a bite then Piri Piries is that place to go. Big screens in the bar offer a great place to catch the action and there is a well-stocked bar with excellent cocktails, as well as a super menu. For those of you with little ones, there is a playground in the courtyard of the restaurant, to keep the wee ones entertained. On certain nights of the week, the bar even organises car park hockey and netball games for interested guests to take part in. Great fun.
Best Family Restaurant in Diani- Leonardos
Leonardos is the place to head if you are looking for a nice Italian-influenced environment, offering Italian meat and seafood dishes and a superb pasta and pizza menu. The ice cream from Leonardos is also to die for. Amazing. All situated under a large makuti roof around a central bar area with private dining enclosures also available and a children's playroom, Leonardos really does have it all.
Best Pizzeria in Diani- Jollys Pizzeria
A hard tag to earn with so many great pizza places in Diani, Jolly Bar and Pizzeria is a great option for going out to enjoy large pizzas with a massive selection of toppings and styles. A well catered bar adds to the experience and deliveries are also available if you are looking to chill elsewhere too.
Best Beach Restaurant in Diani- Nomads Beach Bar
A Diani institution, Nomads is a spectacular location to enjoy a cocktail before tucking into a meal from a menu that offers so much. This includes seafood, curries, great meat options, and even sushi is available. The location is right on the white sands of Diani Beach, offering spectacular views, while you dine. A must-go, at least once during your trip to Diani.
Best Romantic Dinner in Diani- Ali Barbour's Cave Restaurant
A famous one. Finding the best place for a small romantic dinner in Diani or even a large party, the open-topped Ali Barbour's restaurant is located in a cave. Offering high-level gourmet dishes, you dine with a candlelight experience, drawing your eyes to the stars in the sky above the open-topped cave. This one really is up there on the bucket list of things to do. Book it early to avoid disappointment.
Best Indian Food in Diani- Shan E Punjab
Fancy a curry? Then look no further than Shan E Punjab, located next to Diani Beach Hospital at the northern end of Diani. Serving the curries in traditional cooking pots and offering a great Indian menu for both meat-eating and vegetarian pallets, this is the one-stop place to grab an Indian meal in Diani.
Best Place to Get Sushi in Diani- Shashin- Ka
Asian-owned Shashin-Ka offers a Japanese experience in the heart of Diani Beach. The cosy restaurant serves sushi and other traditional Japanese food offering another dining option in Diani.
Best Italian Restaurant in Diani- Aniello's
For a superb pasta experience as well as tasty pizzas and authentic Italian vibe, visit Aniello's. A varied menu (ask for specialities) offers a range of delicious Italian dishes to be consumed in a relaxed atmosphere.
Honourable Mentions
Funky Monkey Bar and Restaurant– Check out Funky Monkey Burgers, Tacos and cocktails!
Apero– Check out Apero Great food, nice cocktail bar.
Havana– Check out Havana Cuban dishes, pizzas bar and live sports.
The K Korean Restaurant– Amazing Korean menu